About Hideo Takaoka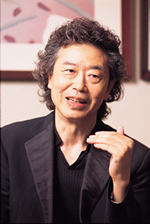 Hideo Takaoka
Hideo Takaoka is a kinesiologist, the director of the Research Institute of Kinesiology, the developer of YURU, and the president and promotion committee member of the non-profit organization, Japan YURU Association.
YURU is Takaoka's complete dynamic training system to 'loosen up' the human body and mind. It consists of his unique theory, YURU THEORY, and practice methods, YURU PRACTICE. The YURU EXERCISES explained in this website are some of his training methods under the YURU PRACTICE. These exercises provide you with a strong mind, healthy living, and a highly effective body. Takaoka's well-balanced method is designed to train, improve, and grow the true nature of humans in all aspects of intelligence, emotions, and physical and mental ability throughout your entire life. He calls engaging in this training the YURU WAY.
Takaoka is also recognized throughout the sports, fitness, and health worlds in Japan as a professional writer who has written more than 100 books in the areas of martial arts, kinesiology, sports science, physical education, body awareness, advanced body mechanics, and natural life philosophy.
In his early childhood, his father, who continued the Japanese traditional martial arts that originated in Muromachi period in the 14th century, taught him martial arts. He grew up surrounded by the samurai culture.
In addition to the training and study of martial arts, he also dedicated his life to integration research and the study of eastern philosophy and western science regarding the human body and advanced abilities at the Graduate School of Education of the University of Tokyo where he received his master's degree. He has studied kinesiology profoundly. But unlike traditional kinesiology, Takaoka's study includes not just human or animal movements but also the body awareness of humans as well as the awareness hidden in a wide range of things including cultural products and assets, plants, minerals, and even the universe. Through his extensive study and research, he has revealed the true depth of body awareness−the fundamental essence which support human physical and mental abilities.
In Japanese martial arts, there have always been concepts of "sei-chu-sen (the center axis)", "hara (guts, intestinal fortitude)", etc. Takaoka found the key to discovering the existence of the body awareness from those concepts. "Sei-chu-sen" and "hara" are now introduced as "Center" and "Lower Tanden" respectively in Takaoka's theory.
After extensive studies including investigation of the above concepts, he revealed that the body awareness exists not only in the field of Japanese martial arts, but also in various other fields such as sports, physical cultures, performing arts, music, business, medicine, academia, and in many other areas. He has successfully discovered the full picture of its structures and functions.
He also studied a variety of physical training methods from all ages and cultures as well as the physical abilities of animals including, centrally, those of fish. The YURU EXERCISES were developed based on the theory and techniques of Japanese traditional martial arts. Together with the essence from those, multiple techniques are integrated including those to loosen and relax your body with body shaking and those to change your body dramatically using gentle humor and Japanese onomatopoeia.
The YURU EXERCISES are systematic methods that allow everybody to develop body awareness easily and effectively. Regardless of age or gender, many people have enjoyed and found groundbreaking benefits for their health, beauty, and advanced abilities from both the physical and mental aspects.
Takaoka currently provides guidance to top-level athletes, performing artists, musicians, actors, business owners, politicians and professors as well. The YURU EXERCISES have been very popular and widely practiced by many people from active top athletes to senior citizens.
After the 2011 Great East Japan Earthquake, Takaoka was determined to support people in the disaster areas and direct the YURU EXERCISES project. He was involved in the teaching of the YURU EXERCISES for the victims' health maintenance and disease prevention.